I hope and pray you are blessed and healthy this warmer month of March. Here's what's cooking at the Martin house in S.C. The tallest Chocolate Pound cake I've ever baked. Look for the recipe at the end.
Wish I knew what I did differently.



That's not all that's cooking! Here's my book news.
Drum Roll No. 1
Grab Georgia Ann, English Rose, right now for $.99 through March 12.
https://www.amazon.com/dp/B087YV77P2 (Click the redirect link if it shows up) ( :
Here's a review!
Bunnyhop
VINE VOICE
5.0 out of 5 stars
A Sweeping & Majestic Tale
Reviewed in the United States on November 17, 2020. Like the first book, which you don't have to read but you should because it's also amazing, this book hooks you from the beginning! It's a majestic tale that takes you to the Barbary Coast to pirates to Tripoli to the Spice Islands to the English rule in other parts of the world in the 1700's and so many parts in between! I could write about this book for days! I loved Georgia Ann and Samuel. What they wouldn't do for each other! The level of sacrifice and love was breathtaking. Slave ships and brother-to-brother secrets plus characters that will endear you or revile you! I just never wanted the book to end! Sometimes you never knew which character was friend or foe. I could easily see this book become a movie because it was so "sweeping" in nature! Spanish Galleons riding the open seas being taken over by pirates and sultans in Tripoli with harems but always, the main characters having a strong faith when they are in terrible circumstances! I loved every word of this book and highly recommend it!
Drum Roll No. 2
The publisher of my first two novels,
Summer of Deception
and the prequel,
In a Pirate's Debt,
are honoring their Barrett family
connection at a special sale. Click for your copies March 6-13 at $.99 each.
https://amzn.to/3bj73zz (click redirect link if it shows up)
The Barretts of Charleston (2 book series)
Set in the beautiful and historic city of Charleston, South Carolina, follow the Barrett family from the days of Captain Lucas Bloodstone Barrett, a pirate in the 1720s, to his descendant, former Marine Special Ops member Luke Barrett, owner of his family's working tea plantation. Prepare for breathless adventure and romance to make you swoon!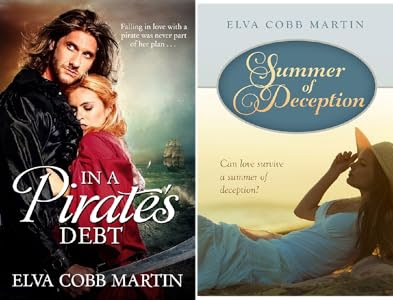 Elva's Tall Chocolate Pound Cake
Set oven to 325 F. Grease and flour large tube pan.
2 Sticks butter (or substitute 1 cup Crisco)
1/2 cup Crisco
3 cups sugar
5 large eggs
1 1/4 cups milk
1/3 cup sour cream
4 cups self-rising flour
1/2 cup cocoa
2 tablespoons vanilla
1 tablespoon almond flavoring
Use large mixing bowl. Mix butter, Crisco and sugar, adding eggs one at a time. Add flavorings. Measure flour and cocoa and sift together. Add flour mixture a cup at a time and alternate with milk.
Spoon dough into tube pan and place in oven on middle rack. Place a square or cake layer pan filled 1/3 full of water in top right corner. This is supposed to help stop deep cracks in the top of cake, but you see I still had a few, happily not too deep. ( :
Bake at 325 for 30 minutes. Turn down to 300 degrees and bake one hour. When toothpick is inserted in the middle and it comes out clean, the cake is done.
Let set about 10-15 minutes, then turn out on a bread rack, and I cover with plastic cake topper to keep cake moist while cooling. Then I transfer it to a cake plate. Usually, however, hubby and I take a warm slice while still on the rack! Once completely cool, this cake can be sliced into about 2 dozen slices, individually wrapped in waxed paper, inserted into two freezer gallon bags and frozen with great results. It is still delicious and moist when taken out as needed.
Here's something I'm watching grow these days--my Lupin flower seedlings I'll plant outside after the last frost.
Onward into Spring, my fave season!
Elva